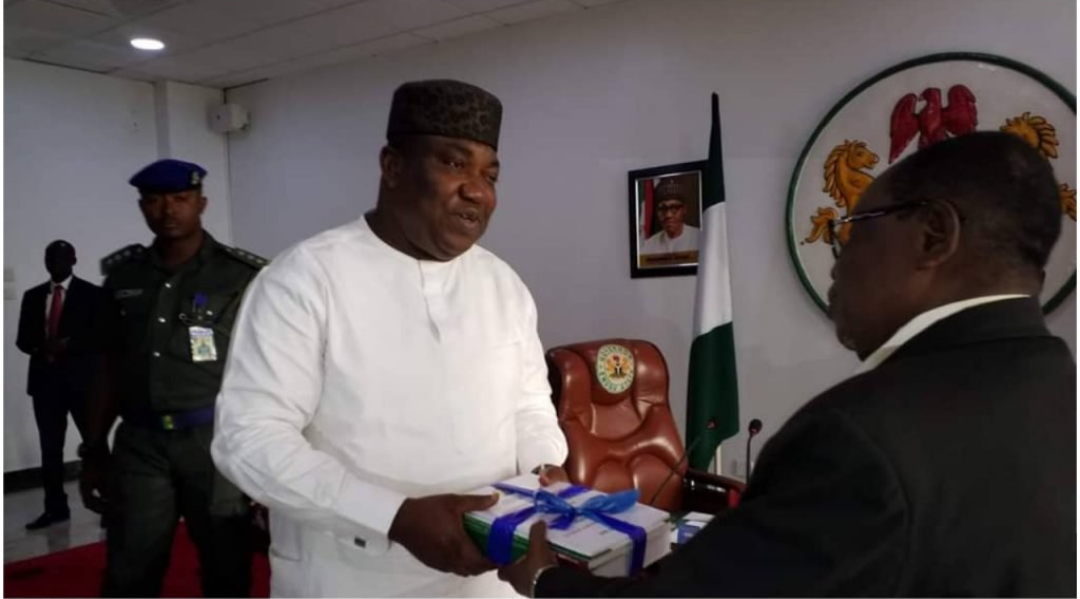 The Dean of the Faculty of Management and Social Sciences of Godfrey Okoye University, Professor Onyema Ocheoha, presents his report as Chairman of the Ad hoc Committee on Civil Service Reform to the Governor of Enugu State, Dr. Lawrence Ifeanyi Ugwuanyi.
Presenting the report, the public service committee's chairman, Prof. Ocheoha, stated that they executed their assignment within the stipulated time frame with diligence, dispassionate, deliberation, patriotism and professional expertise, adding that the report was unanimous without any dissenting opinion.
Prof. Ocheoha also explained that the report cuts across various ministries, extra-ministerial departments and parastatals, with particular focus on the Cabinet Office, as contained in their mandate.
"As we hope that you will find our report a useful contribution to the administration of Enugu State, we fervently pray that if the recommendations embedded in our report and other reports from the various committees are adopted; they will go a long way towards elevating the government and the entire people of Enugu State to higher levels of excellence", he said.
Other members of the committee present at the event include, Prof. Simon Ortuanya; Prof. Clement Okeke; Prof. Malachy Okwueze; Emma O. Nnamani; Barr. Sam Onyia; Dr. Ferdinand Agu and Nnayelugo Dan Onyishi, who served as secretary. source:
https://dailypost.ng/2019/07/29/cabinet-ugwuanyi-vows-select-competent-self-motivated-team-consultation-stakeholders/