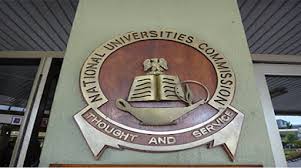 NUC approves additional postgraduate programs for Godfrey Okoye University
NUC approves additional postgraduate programs for Godfrey Okoye University
THE National Universities Commission (NUC), has approved 11 additional academic programmes for Godfrey Okoye University, Enugu, the Vice-Chancellor, Prof. Christian Anieke has said.
Anieke disclosed this on Wednesday in Enugu, while briefing newsmen on the outcome of a resource assessment visit to the institution by the NUC.
He further stated that the commission, had in a letter dated Feb. 10, 2021, communicated to the university its approval for the establishment of the full-time mode of some postgraduate programmes.
He listed the programmes to include Accounting (PhD), English Language and Literary Studies (M.A and PhD), Mass Communication (PGD and M.Sc), Measurement and Evaluation (PhD).
The rest were Microbiology (PhD), Political Science (PhD), Biology Education (M.Ed), Chemistry Education (M.Ed), Physics Education (M.Ed), Mathematics Education (M.Ed and PhD) and Computer Science Education (M.Ed).
Anieke said that the latest approvals were an indication that the institution, which started undergraduate programmes in 2009, had reached the zenith of university education.
He said that the university had the infrastructure and manpower to support the programmes, adding that admissions into the various fields of study would start immediately.
According to him, the institution's School of Postgraduate Studies is one of the best in the country.
He said that the institution had continued to break academic grounds which made it to become one of the fastest-growing private universities in the country.
Anieke said that the Catholic Church had always seen education as part of its mandate.