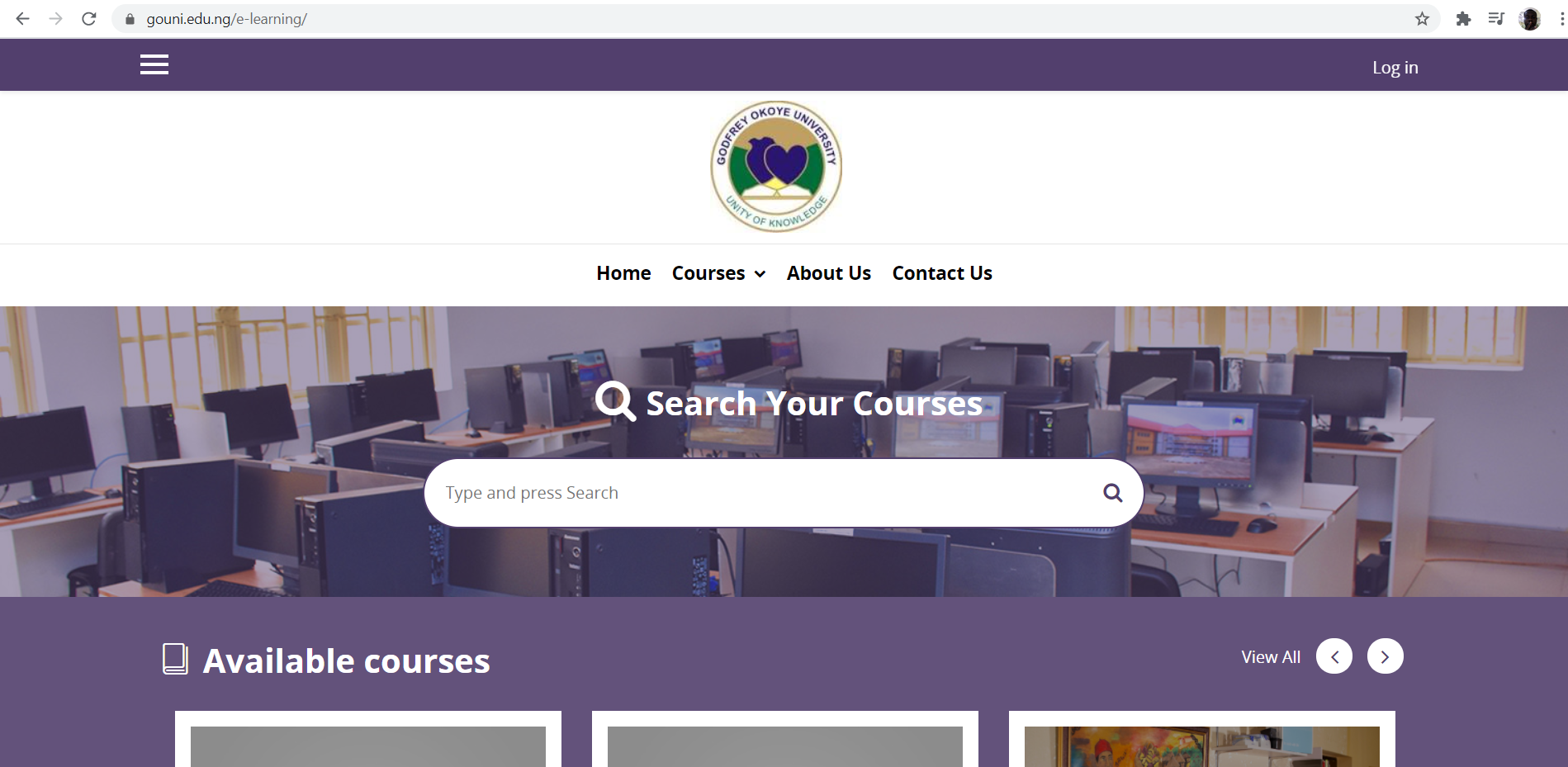 IMPORTANT INFORMATION FOR NEW AND RETURNING STUDENTS
Dear students, please take note of the following information:
1. Welcome to Godfrey Okoye University; God's own university, the best private university in the South East of Nigeria. You have made the best choice of a university for academic excellence and strong moral character.
2. Subject to government positive decision to lift the lockdown of higher education in the country, Godfrey Okoye University will be offering a blend of on-campus and online learning to ensure that our students have a consistent and high-quality experience while observing safety measures against the spread of COVID-19. Academic activities for all returning students will commence on October 5, 2020.
3. We shall employ a phased return of all students according to their levels. Each level of students will receive a four-week intensive face-to-face lectures in all the courses and remaining lectures online. While students of any level are on campus, their lecture time will be dedicated especially to workshop sessions, laboratory tests, parts of the course that cannot be handled adequately online and/or deepening of lectures already held online. The phased return of students will take this shape:
• 400 Level students: October 5,2020
• 100 Level students: November 9, 2020
• 300 Level students: January 4, 2021
• 200 Level students: February 1, 2021
Note: Students who have paid their fees should log into their GoUni portals to book their hostel rooms. You are advised to pay your tuition and ICT fees through Remita. Please note that the number of students we can accommodate on campus and in classrooms is worked out based on the recommendations of government, including the appropriate social distancing requirements.
4. 100 Level students will begin their lectures online with other students on Tuesday, November 6, 2020. They will return to the Thinker's Corner Campus of the University on Monday, November 9, 2020 to continue in-person lectures. While they are on campus, they will complete all university and Jamb admission requirements: change of institution/course and printing of Jamb admission letter. All new students must return with their computers which they must register with the ICT unit for safety reasons.
5. Godfrey Okoye University online learning has been developed to minimize the usual challenges with online learning. It is more affordable, simpler to use, and it facilitates online conversations with lecturers and fellow students. The graduating class of 2019/2020 were the first to launch it during their examinations.
6. Students must return with the following items before being allowed into the hostel: 5 face masks, 5 hand-sanitizers, and liquid soup for washing of hands. We are putting in place a number of additional health and safety measures across our entire campus. These include:
• Provision of adequate handwashing and sanitation facilities throughout the campus, including the vicinity of lecture halls and hostels.
• Provision of infrared thermometers for health check at the gates.
• Regular fumigation of hostels and the compound.
• Increased cleaning of surfaces in classrooms, including desks and handles, and toilet blocks.
• Effective security personnel to monitor and ensure compliance with the safety measures.
• Presence of a dedicated Health team.
• Provision of an isolation centre for suspicious health issues or to quarantine those who go outside the university premises without approval.
7. During the orientation programme for all students which is planned to take place a day after their return, students will sign an undertaking to obey safe-keeping regulations and never to leave the university premises for any reason except with the permission of the Vice Chancellor or the Deputy Vice Chancellor. Once on campus, students will not be allowed to leave until the in-person lecture period ends.
8. The university will ensure that mini-shops and catering outlets are up and running while students are on campus. All food and drinks will be served in disposable packs. Students who wish to make their own meals are allowed to cook with their stoves (not cooking gas) in areas reserved for cooking. It is forbidden to cook inside the hostels.
9. We are motivated to take proactive measures out of deep concern for the safety of our students and the integrity of their educational experience. The safety of our students is our top priority.
10. The university calendar of events and lecture timetable for the first semester are available on the website. Please consult these two important documents for scheduled dates and events concerning you, and be guided by them.
God bless you as you return to our GO University Family. May the Lord give success to your work in this new academic year!
Singed:
Sr. Prof. Marysylvia Nwachukwu
Director of Academic Planning
08069111019
Prof. Dr. Christian Anieke
Vice Chancellor of Godfrey Okoye University
Director of GO Uni Group of Institutions
Rector of Omnium Sanctorum Chaplaincy