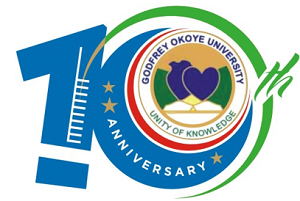 10th Anniversary Celebration
Theme: The Narrative of Our Growth
A. GUIDING PRINCIPLES
In the preparations and execution of the programmes to mark the tenth anniversary of our university, we wish to pay attention to the following principles:
1. The Academic Outlook of the University to be visible
2. Value-driven (ethical) character of our University to be evident
3. Decent packaging of events without extravagance to be assured
4. Elements of Dialogue to be promoted
5. Specifics of a Catholic University to be clarified
6. Celebration of joy and gratitude to be elaborated
7. Entertainment for relaxation to be put in place.
B. ACTIVITIES
1. Monthly Interaction
2. Tree Planting
3. Alumni Day
4. Convocation
5. GO Uni Open Day
6. Quiz Competition
7. Opening of the Hall of Fame in the New Auditorium
8. Contact with our Partner Institutions
9. Naming Ceremony and Commissioning of Projects
10. Parents' Forum Day
11. Mass Education Day
C. PUBLICATIONS
D. TENTH ANNIVERSARY RESEARCH
E. ANNIVERSARY UNIFORM
F. GRAND FINALE
G. CONCLUSION 
The official flag-off of the event will take place on 26 January 2019, Matriculation day.
For Donation, Contribution, Suggestion, etc. 
Contact: Chairman Anniversary Celebration Committee
Dr. Ikechukwu J. Ani, Rev Father
Email:  iani@gouni.edu.ng  Phone: 08181924461